Manual Guitar tuning is not an easy job and time consuming, especially for amateurs. There are various hardware and software available for tuning guitar and most of them cost 10$+. While searching around , I found  some free software to tune guitar. They are easy to use and gives an accurate result. To work with it, you need to plug your guitar to computer or use microphone.

PitchPerfect is a free guitar tuner software for Windows, Mac , Pocket PC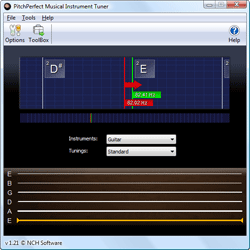 and iPhone . Simple to use, PitchPerfect eliminates the need of tuning a guitar manually and will automatically detect the note you are playing.
You can simply tune your strings quickly and easily to any note you want! This software is ideal for all guitar musicians. PitchPerfect is easy to use and will greatly improve the quality of your guitar's sound.
Works on Windows XP 2000/2003/Vista/2008 and Windows 7
Mac OS X 10.2 or later;
Pocket PC Smartphone 2003 (Windows CE 4)
Windows Mobile 5 Pocket PC/SmartPhone, Windows Mobile 6
Available for iPhone from iTunes
Besides this, there is an also online version of Guitar tuner made by Seventh String. This one use Java run-time to run and also gives perfect tuning. Click here to go to online tuner page. It is also available for download as offline tuner. Click here to download.
If you have Guitar Pro 6, it comes with inbuilt guitar tuner. To access guitar tuner navigate to Tools > Guitar Tuner. Then plug in the guitar or use the headphone to tune it.
Also read: How to change guitar String