2011 saw the release of various new interesting software and web-application. Most of the internet user prefers to use download manager for their heavy purpose. Throughout this year, I have tested various download managers for downloading purpose and made this list of "Best Download Manger of 2011." This list contains both Free and commercial (paid) software.
Best Free Download Mangers of 2011
Free Download Manager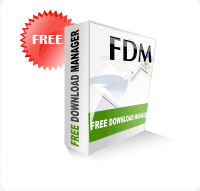 As the name says, it is free and open source download manager released under GNU GPL. It supports the wide range of features such as preview of the zip files, mp3, video files, etc. and also supports ftp and torrent download. It has the flash video download features which helps you to download from video sites, such as Youtube, Google Video, etc. The video can then be saved in native. Flv format or converted to one of more popular video formats. It has a clean and easy to understand UI and uses less memory. It has almost all features that can be found in commercial paid software. You can download and learn more about it from its official website here.
Orbit Downloader

Orbit Download manager is yet another free download manager that is of light weight and packed with advance features. It has a grab++ module add-on, which make it possible to download streaming media from sites like Myspace, YouTube, Imeem, Pandora, Rapidshare and support RTMP. This software is only 4 mb and use very low CPU and memory to run. You read more about the features and download the software from its official site.
Best Download Manager of 2011 ( Commercial/ Paid)
Download Accelerator Plus
Before switching over to alternative download manager, I was a user of DAP. It is a full-featured download manager with lots of power features and security. It also has an inbuilt browser, history cleaner, ftp manager, etc. It has a free version as well as commercial version with addition features. Free version has some limitations and there are ads on the program which sometime can be annoying and because of this reason I switched to another download manager. You can read more and download it from its official website speedbit.com.
Internet Download Manager
Internet Download Manager is light weight download manager (around 4mb) and doesn't use an excessive amount of CPU and memory. It has all the features a download manager needs to have. It includes unique features such as limiting bandwidth use per hour and advanced browser integration. It has a grabber module which makes it possible to download from video streaming site such as Google Videos, youtube, myspace etc. It's interference is clean and easy to understand.